4-Day Kayaking Kyuquot - Exploring Spring Island, BC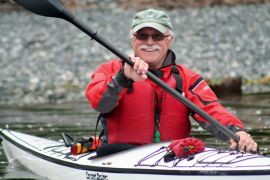 4-Day Kayaking Kyuquot
Experience the riches of a sea kayaking and holiday escape to Kyuquot. Enjoy a true getaway with delicious meals, playful outings by kayak or on forest trails, and blissful nights.
Book Now ►
Overview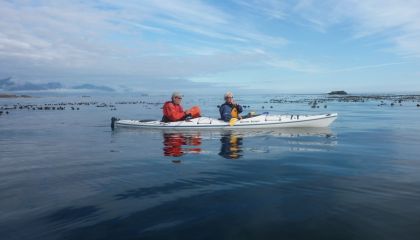 These trips begin and end from your accommodation in Comox/Courtenay or Campbell River, include van transportation, a scenic boat ride to our Wilderness Retreat base camp, and the perfect mix of personal and group time once on the west coast of Canada.
Our daily routines flow with the tides, weather, and wildlife.
Taking full advantage of the comforts and conveniences of our base camp, each day's outings by sea kayak and foot allow us to share nearby highlights, including:
curious sea otters, sea lions, and the possibility of kayaking with whales, which can include humpback, grey, Minke and killer whales
tufted puffins, bald eagles, osprey & other marine birds
black bear viewing by kayak while they forage along the shoreline
inviting shell beaches on rocky islets laden with marine life in tide pools
giant Sitka spruce trees topped with the massive nests of bald eagles
incredibly picturesque sunsets and sunrises
historic and current village sites of the local First Nations people
some of the most spectacular surf-pounded shores off the West Coast of Canada
I loved this trip. I can't say enough good things about my experience. The area is so gorgeous - it really created a space within myself.
Marilyn B, Ontario
Our professional sea kayak guides enjoy sharing their knowledge and skills, and learning together with you! We are committed to helping you to feel comfortable if in a kayak for the first time, or to further developing your confidence and competence if already an experienced kayaker. When on interpretive walks, if we don't have answers for your many questions, we'll try to find out more in our substantial resource library in the dining and activity shelter at our island retreat.