Location: The Perfect Island & Area for Kayaking in BC
...the prettiest, most diverse and most appealing island [on the British Columbia coast]...
John Kimantas, Coast & Kayak Magazine
Explore world-class west coast shorelines on foot or by kayak. Appreciate the sights and sounds of a Wilderness Retreat in a sheltered bay with cobblestone beaches and enchanting old-growth forest trails steps away from your tent. Learn about the diverse marine and forest life all around you. Remote, yet accessible.
Getting to Kyuquot
is worth the journey and scenic in itself. Perched on the edge of Canada, our Wilderness Retreat base camp on Spring Island is "right out there", surrounded by 360 degrees of ocean and forest options, and in the heart of Ka:'yu:'k't'h' / Che:k:tles7et'h' Nations' territory. Spring Island is a jewel of the west coast, and the largest of an offshore chain of islands and reefs (the Barrier Islands), at the mouth of Kyuquot Sound.
With guided activities that make safety, learning, relaxation, and tailored adventures all top priorities, this quickly becomes a favourite Vancouver Island vacation destination for all ages and experience levels.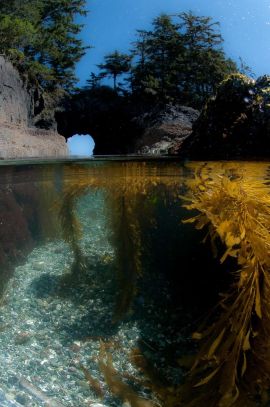 Whether looking for a customized
Wilderness Retreat
, or escaping for a
Base Camp Kayaking
or
Expedition Kayaking
experience, we are ideally situated on Spring Island with the natural features of:
A sheltered bay with easy access cobblestone and sand beaches for launching kayaks and practicing new kayaking skills
An extensive network of island trails for stretching your legs, accessing incredible view points, and exploring on foot
Island separation from the Black Bears and Cougars on Vancouver Island
Expansive eelgrass flats and nearby rocky tide pools that entice the curiosity of all ages
proximity to one of the largest rafts of sea otters on the coast of BC, often with over 100 male otters...and very close to the female sea otters and their pups
Neighbourly deer and peeping shorebirds
The soothing orchestra of sea otters, barred owls, bald eagles, Swainson's thrushes, and all of their friends
Spring Island - Quick Location Facts for our Wilderness Kayaking Retreat

Latitude:
50°0'24"N
Longitude: 127°25'8"W

Zoom to find us on the map!
Area: depending on your brain, approximately 1.1 km2 (110 hectares) or 272 acres to explore!

though it feels like Spring Island is "way North" of Campbell River, it's actually almost exactly "due West" from Campbell River at the same 50o latitude
part of the Mission Group of Islands, Kyuquot Sound area, off the northwest coast of Vancouver Island, British Columbia, Canada
located approx. 13 nautical miles (24 km) by boat from Fair Harbour
located approx. 2.2 nautical miles (4 km) by boat from the village of Kyuquot in Walters Cove, population approx. 200
lies just south of British Columbia's largest marine Ecological Reserve - Checleset Bay Ecological Reserve (34,650 ha), first established in 1981 to protect sea otter habitat (extirpated in the 1920's and re-introduced between 1969-1972). The Reserve is now designated with the primary function of protecting "a representative marine ecosystem on the west coast of Vancouver Island." The West Coast Vancouver Island Aquatic Management Board provide an excellent description about habitat features and values of the area.
| | | |
| --- | --- | --- |
| | | |

Walking/hiking distances (approx.)
5.5 km (3.4 miles) around the shoreline and headland trails - allow 2-3 hours to enjoy...again and again!
1.3 km (0.8 miles) on the trail from our Base Camp to the beaches on the exposed west side - about 20-25 minutes one-way
Paddling distances (approx.)
4.5 nautical miles (8.3 km) to circumnavigate Spring Island
7 nautical miles (13 km) from Spring Island to the Big Bunsby Island Provincial Park; much of this is exposed paddling with few landing options
16 nautical miles (30 km) from Spring Island to the Muquin/Brooks Peninsula Provincial Park (Columbia Cove/Jackobsen Point area)