8-Day Brooks Peninsula Kayaking Expedition - the BC Kayaking Trip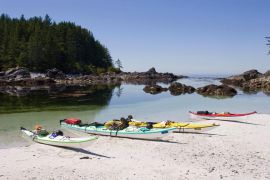 8-Day Brooks Peninsula Kayaking - Expedition
This classic west coast sea kayaking expedition, designed for experienced paddlers, has been described as one of "10 Real Adventures for Mere Mortals".
You'll sea kayak along some of BC's most remote coastline, explore the best rock gardens, likely kayak with whales, and discover the fascinating history of the Che:k:tles7et'h' (Checleset) First Nation. Tick it off your list, and keep returning for more!
Overview
These trips begin and end from your accommodation in Comox/Courtenay or Campbell River, include van transportation, a scenic boat ride to our Wilderness Retreat Base Camp, and the perfect mix of personal and group time once on the west coast.

Your destination - the dramatic Mquqᵂin/ Brooks Peninsula Provincial Park - is one of the quintessential west coast Vancouver Island kayaking adventures. So, consider joining West Coast Expeditions for this trip-of-a-lifetime to the mighty Brooks Peninsula, an 800 m high and 14 km projection off the northwest coast of Vancouver Island!

This sea kayaking expedition is for "experienced paddlers" and campers who have done a reasonable amount of paddling and camping in a range of conditions. Participants should know they are comfortable in a kayak for extended periods (up to 3 hours), and have the physical fitness and stamina to paddle a loaded kayak for several days in a row.

All guests are required to have cold water immersion gear (wetsuit or drysuit) available for some sections of the open water paddling, surf landings, or if warranted by the sea or weather conditions. Having the ability to do a surf landing would be an asset but is not essential for this trip as we will closely monitor and coach everyone through the surf. We take safety seriously... which allows us to maximize what we can explore within the bounds of the guides' abilities, and participants' interests and abilities. Though we require suitable previous kayaking experience, this expedition is about much more than the kayaking - kayaks are our quiet vehicles through this remote marine area steeped in natural and cultural history.

Participants should be familiar and practised with:


basic strokes, including effective manoeuvring in light to moderate winds (up to 20 knots or 35 km/h) and in moderate swell or wind waves
wet exits (getting out of the kayak if you accidentally capsize)
re-entry techniques (assisted and solo techniques for getting back into the kayak after a capsize!)

Our best family expedition ever!
Ballantyne family, Victoria, BC
The start and end of your expedition uses our Wilderness Retreat base camp amenities on Spring Island as the perfect staging ground for this unparalleled Vancouver Island sea kayaking adventure. The specific itinerary of the Destination Brooks kayaking tour varies with the interests and skills of the group, the moods of the ocean and weather, and the offerings of this spectacularly rugged coastline.
Dates and Rates
8-Day Brooks Peninsula Kayaking - Expedition
Notes

---

Max of ONLY 8 guests with 2 guides; may increase to 10 guests and 3+ guides with custom experiences or group bookings.

Transportation: includes two-way ground transport from Comox/Courtenay or Campbell River, and two-way water taxi from Fair Harbour.

"Fees": a booking fee of $30 applies per reservation, regardless of whether for 1 or more people; this is not per person", but "per booking".


Rates & Details

---

from Comox/Courtenay or Campbell River
CAD$3159/p + taxes & fees

CAD$950 deposit reserves seat; full payment is due 75 days before trip start

Groups of 4 or more can request custom dates for private trips (custom pricing will apply).

Dates

---

2022:
August 3-10, FULL (waitlist available)
August 18-25, 2 FULL (waitlist available)
Sea Kayaking Trip Area for the Brooks Peninsula Expedition
Inclusions
Thank you so much for shepherding us (without coddling or condescension) to and through these places of such haunting, primeval beauty.
Michael B., Washington
Experienced paddlers and west coast wilderness campers already have a pretty good idea about the personal clothing and camping equipment required. We take care of the rest! A detailed packing list is included in your pre-trip information package provided upon registering.
We provide:

Two-way ground transportation with professional drivers (van shuttle) to/from your overnight accommodation or vehicle parking location in Comox/Courtenay or Campbell River; parking available.
Two-way water taxi transfer from Fair Harbour to WCE Spring Island Base Camp
Diverse fleet of new, high-quality fibreglass and Kevlar single and double kayaks and all related kayaking equipment; though we do our best to accommodate requests for using a single or double kayak, there is almost always a minimum of one double kayak on an expedition, so depending on guest preferences, even if you "prefer" a single, you might rotate through time in the double - this is for group safety and everyone's benefit during expedition travel.
On your first night, enjoy the comforts and conveniences of our Wilderness Retreat, including a delicious sleep in our waterfront tents with beds, pillows, fitted sheet, and fleece blanket (just need your sleeping bag...or arrange to rent one from us). This may also be where you spend your last night with us.
All scrumptious meals and snacks once with us in Kyuquot and on your expedition - everyone is pleasantly satiated!
Professional guides and all group safety gear
Use of paddling jackets and dry bags for day trips when kayaking
Some 3 mm Farmer John/Jane wetsuits are available to rent if you don't otherwise have a wetsuit or drysuit - we bring these as an optional safety item for comfort or conditions
Engaging interpretive programs (rainforest, intertidal, marine, Aboriginal culture) tailored to your interests
Comprehensive resource library of reference and reading material about the coast
Innumerable other things - big & small - that make your experience with us feel comfy & complete!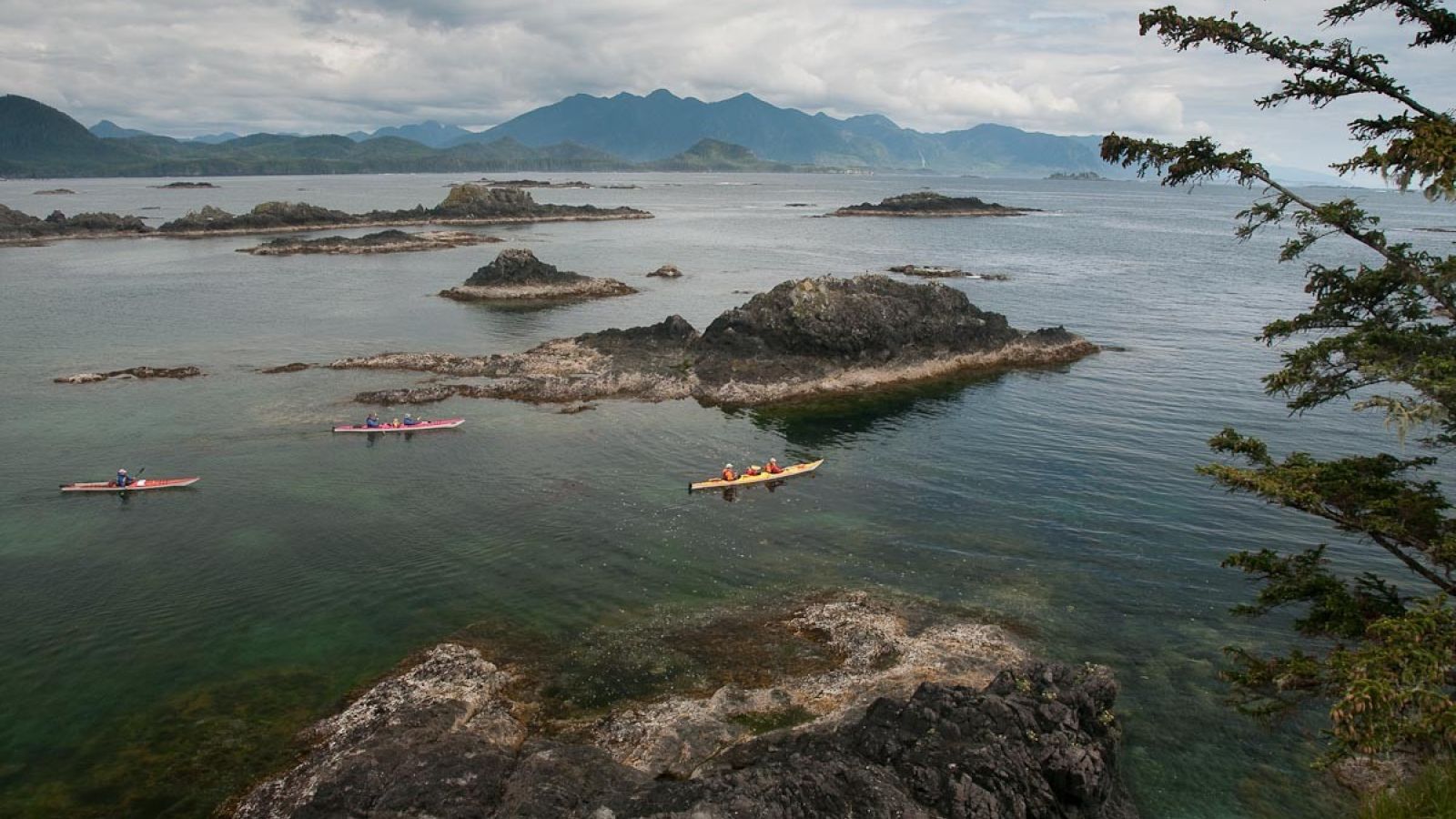 Notes:

We are happy and able to accommodate a range of dietary restrictions and allergies. Depending on what works best for you, you may also choose to bring a few snacks or supplements - please make sure you discuss this with us well in advance so we have your needs covered.
Please bring your own sleeping bag and tent, or arrange in advance to rent these from us.
Alcoholic beverages not provided or served - please bring your own favourites!
If preferred, you are welcome to bring your own PFD or paddle, and there is space for this in the van shuttle to Fair Harbour. You are also welcome to bring your own kayak if driving yourself to Fair Harbour, with a savings of $125/person for providing your own kayak and transportation.
Itinerary
Day 1
Morning van transportation from your accommodation in Comox/Courtenay or Campbell River; four to five hour scenic drive on northern Vancouver Island to remote Fair Harbour; chartered water taxi transportation to our Wilderness Retreat base camp on Spring Island - on the outer edge of Canada's west coast!
Early afternoon arrival and a light lunch; after a brief orientation to our base camp facilities (shower, resource library, outhouses, fresh drinking water, etc.), the group will discuss our best options and suitable timing for packing and departing toward the Brooks Peninsula the next day.
Time to settle into your waterfront tent accommodations for the first night in camp; once settled, we'll typically go for a relaxing afternoon paddle close to camp - getting active and further oriented. Alternatively we may jump into reviewing kayak packing and safety procedures, assign boats for the trip, and, if the weather is suitable to depart Spring Island the next morning, dive into getting all of the gear loaded!
After dinner, if time permits, we will enjoy a sunset walk to the wild west side of Spring Island to get a view across Checleset Bay and toward the Brooks Peninsula - our marinescape for the week!
The full day of travel and trip preparation, and the soothing sound of waves on the shore, should help you to sleep despite the excited anticipation of the adventure ahead!
Day 2
You might be woken by the caress of waves on the cobblestone beach, the morning mew of a Sea Otter pup in the bay, the call of a Bald Eagle overhead... or the simply the need to stumble out of the comforts of your tent, urinate, and find a coffee to say hello to the day!
After a satisfying breakfast, if the weather isn't appropriate for immediate travel over the exposed traverse to the Bunsby Islands, we can spend an extra night or two initially exploring closer to Spring Island and using the base camp. This can be a great opportunity to see even more of the area.
Our guides will ensure that everyone is fully introduced to the kayaks and equipment, and related safety considerations for our travels.
If the weather and sea gods are smiling on us while traversing Checleset Bay toward the Bunsby Islands and Acous Peninsula, we'll paddle into a sea cave and maybe even under a waterfall. We are also likely to witness Black Bears foraging for food along the steep rocky shore!
By the time we reach our first campsite, we will have travelled between 8 and 11 nautical miles (approx. 15 to 20 km).
Day 3
Weather permitting, and depending on where we camped the night before, we may then proceed to Surfer Beach at Jackobson Point on the Mquqᵂin/Brooks Peninsula. Once there, this expansive beach will become home for the next few days as we explore the surrounding area by sea and land, absorbing all that the area offers.
Alternately, we decide it's more sensible to first explore more around the Bunsby Islands and Acous Peninsula (see below).
If at the Mquqᵂin/Brooks, after setting up camp and having lunch, the afternoon is typically less structured: kayak, body surf, swim in the creek, explore the shoreline, or just sit still - the choices are almost endless.
We may see Tufted Puffins boldly swimming beside us (with their comical beak and cavalier head tufts!), curious teenage Stellar Sea Lions, or flocks of Cormorants sunning themselves on the numerous rocky islets. If we are really lucky, we will catch a glimpse of or hear a passing Harbour Porpoise ("puffing pig"!), Humpback Whale, or Minke Whale.
If conditions remain favourable, we will remain camped on the Mquqᵂin/Brooks Peninsula. While there, likely day paddles include: exploring the best kayaking rock gardens on the coast as part of our route to Clerke Point (the southwest corner of the Brooks); meandering into Nasparti Inlet (including the powerful tidal entrance to Johnson Lagoon)... or, well, not paddling at all, but instead wandering the beach and rocky shoreline in search of treasures or places to rest, reflect, and absorb the calm and wildness of this setting.
Either before or after our camping time at the Mquqᵂin/Brooks, we will also explore the Acous Peninsula, Battle Bay (and River), and the Bunsby Islands. Highlights include: paddling into the Battle River estuary, walking the beaches in Battle Bay, visiting Che:k:tles7et'h' (Checleset) First Nation friends and historic sites (with permission), sand and shell beaches, and prolific intertidal life through the shallows between islets - it's like paddling in an aquarium!
Days 4, 5 & 6
As per day 3...Fully exploring where we are, connecting with the area, relaxing, and sensibly positioning ourselves for what will be best to next experience!
Day 7
Depending on sea conditions, weather forecasts and what's most suitable for the group, we will likely do the return paddle to Spring Island on Day 7.
After packing up, we again traverse Checleset Bay back to Spring Island for the last night.
Depending on our arrival time at Spring Island, there may be the chance for an afternoon paddle, or a unique forest walk to a grove of giant Red Cedars on Spring Island.
We recommend a final sunset walk to the exposed beaches on the west side of Spring Island, where you can look back at the Mquqᵂin/Brooks Peninsula and reflect on experiences of the past week.
Day 8
If already back at Spring Island, this leaves us the morning to relax, organize personal things, and/or head out for some more spectacular paddling or walking around Spring Island's world-class coastline - whichever suits you.
If still in the Bunsby Islands, we're up early to pack, launch, and enjoy the open traverse across Checleset Bay while returning to camp. Once back, it's time to unpack, repack, and enjoy some quiet or group moments before your water taxi arrives midday - a full, satisfying morning, and exhilarating close to a great trip!
After lunch and goodbyes to Spring Island, the water taxi transportation to Fair Harbour will meet our van shuttle back to your accommodation or connecting travel in the Campbell River or Comox/Courtenay areas.