1-Day Kayaking Experience from Spring Island
This is a great option if already in Kyuquot, BC - for example: Sportfishing and limited out...and now wanting other adventures? Staying at a lodge or visiting local friends and want to get out and play? Boat-based camping in the area and interested in trying something different? Looking for an incredible sea kayaking experience in Kyuquot?!! Join us for a day tour.
Overview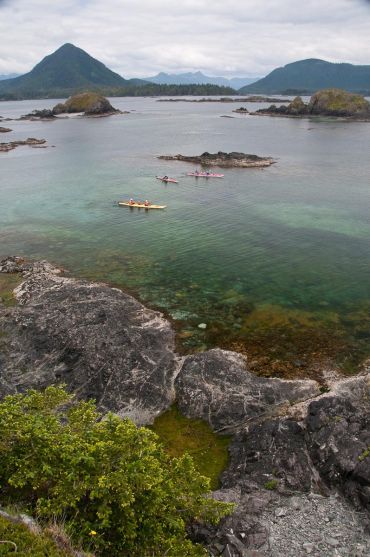 We have day trips happening most days of the summer from our sea kayaking Wilderness Retreat base camp on Spring Island. We'll customize the perfect kayak day tour for you and your group, designed around your previous experience, interests, and abilities...and what the weather, sea conditions, and wildlife seem to be serving up!
These day trips begin and end with water taxi transportation from your accommodation in the nearby Village of Kyuquot. This scenic boat ride often blasts through some of the same areas we'll explore at a more peaceful "connecting" pace by ocean touring kayak. We provide all of the kayaking equipment, a delicious lunch, and professional kayak guides who aren't happy unless you're happy! The day can begin with and include as much instruction - be it from square one or a refresher - to ensure your focus is less on the kayaking and more on the rich surroundings. Our lunch stops allow time to stretch and explore fascinating places on shore.
Besides learning to kayak or refreshing old skills, highlights can include:
curious sea otters, sea lions, and the possibility of kayaking with whales, which can include humpback, grey, Minke and killer whales
tufted puffins, bald eagles, osprey & other marine birds
black bear viewing by kayak while they forage along the shoreline
inviting shell beaches on rocky islets laden with marine life in tide pools
giant Sitka spruce trees topped with the massive nests of bald eagles
historic and current village sites of the local First Nations people
some of the most spectacular surf-pounded shores off the West Coast of Canada
1-day Spring Island ► Day Kayaking Experience
Notes
Rates & Details

Dates
If already in Kyuquot, join us for a professionally guided day trip to experience the best of Kyuquot at water level! Includes delicious lunch, kayaking gear, instruction, interpretation of natural and cultural history, & fun!

Transportation: includes two-way boat transport from the Village of Kyuquot to our wilderness kayaking retreat on Spring Island
CAD$415 + 5% GST (per adult)
CAD$353 + 5% GST (children 5-12 yrs)
[less $30 if getting yourself to Spring Is.]

Full payment is due at time of booking

See Specials & Promotions for families, groups & early bookings

Single and double kayaks available and selected depending on participants' age, experience, and preference
Potentially available through July and August each summer

Boat transport from Kyuquot at approx. 08:15, returning at approx. 16:30

Contact us for availability.

Please inquire well in advance!