8-Day Brooks Peninsula Kayaking Expedition - the BC Kayaking Trip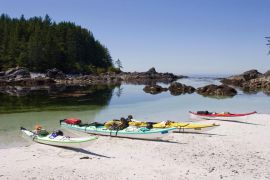 8-Day Brooks Peninsula Kayaking
Ready for a full-on immersion in the wild West Coast? This sea kayaking expedition, designed for experienced paddlers, was described by Men's Journal as one of "10 Real Adventures for Mere Mortals," alongside other world-class thrills like diving in the Galapagos.
Book Now ►
You'll sea kayak along some of BC's most remote coastline, explore the best rock gardens, likely kayak with whales, and discover the fascinating history of the Che:k:tles7et'h' (Checleset) First Nation. Tick it off your list, and keep returning for more!
Overview
These trips begin and end from your accommodation in Comox/Courtenay or Campbell River, include van transportation, a scenic boat ride to our Wilderness Retreat Base Camp, and the perfect mix of personal and group time once on the west coast.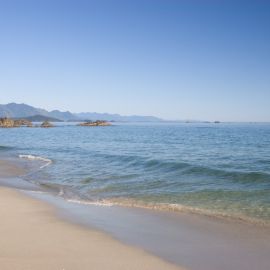 Your destination - the dramatic Muquin / Brooks Peninsula Provincial Park - is one of the quintessential west coast Vancouver Island kayaking adventures. So, consider joining West Coast Expeditions for this trip-of-a-lifetime to the mighty Brooks Peninsula, an 800 m high and 14 km projection off the northwest coast of Vancouver Island!
This sea kayaking expedition is for "experienced paddlers" and campers who have done a reasonable amount of paddling and camping in a range of conditions. Participants should know they are comfortable in a kayak for extended periods (up to 3 hours), and have the physical fitness and stamina to paddle a loaded kayak for several days in a row.
Participants should be familiar and practised with:
basic strokes, including effective manoeuvring in light to moderate winds (up to 20 knots or 35 km/h) and in moderate swell or wind waves
wet exits (getting out of the kayak if you accidentally capsize)
re-entry techniques (assisted and solo techniques for getting back into the kayak after a capsize!).
All guests are required to have cold water immersion gear (wetsuit or drysuit) available for some sections of the open water paddling, surf landings, or if warranted by the sea or weather conditions. Having the ability to do a surf landing would be an asset but is not essential for this trip as we will closely monitor and coach everyone through the surf. We take safety seriously... which allows us to maximize what we can explore within the bounds of the guides' abilities, and participants' interests and abilities. Though we require suitable previous kayaking experience, this expedition is about much more than the kayaking - kayaks are our quiet vehicles through this remote marine area steeped in natural and cultural history.
The start and end of your expedition uses our Wilderness Retreat base camp amenities on Spring Island as the perfect staging ground for this unparalleled Vancouver Island sea kayaking adventure. The specific itinerary of the Destination Brooks kayaking tour varies with the interests and skills of the group, the moods of the ocean and weather, and the offerings of this spectacularly rugged coastline.
Sea Kayaking Trip Area for the Brooks Peninsula Expedition