Greenland-Style Kayaking Workshop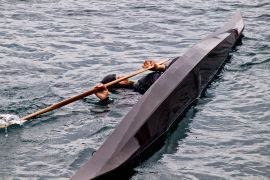 Greenland-style Workshop - Base Camp
Join renowned traditional Greenland paddling technique instructor James Manke for daily skills sessions and excursions to inform and enhance your skinny stick abilities.
James Manke from All Things Qajaq, and West Coast Expeditions combine expertise to offer this one-of-a-kind training in traditional Greenland-style paddling while exploring incredible west coast waters! This unusual offering is open to beginner, novice, intermediate, or advanced paddlers.
Spring Island was the perfect venue for a Greenland workshop.
Liz T., Portland, OR – 2012 Greenland Workshop participant


Overview

What better place for skill development than at our West Coast Expeditions kayaking base camp on Spring Island in the Mission Group on the wild northwest coast of Vancouver Island?!

Join expert Greenland paddling instructor, James Manke, who is All Things Qajaq and currently launching his Roll Across Canada Tour! James was based out of Victoria, British Columbia, is currently in Baja, Mexico, and mastering a mobile life. He is both passionate and talented in sharing the tradition of Greenland kayaking. James has a unique teaching style that draws you in and allows you to explore the possibilities of his teachings. This is foundational for modern day paddlers.

He is a perennial favourite coach at events like the Pacific Paddling Symposium and elsewhere throughout North America...and the world.

James has been to Greenland to compete - and medal - in the 2014 Greenland National Kayaking Championships, hosted by Qaannat Kattuffiat. While learning to kayak, James also skinny-stick paddled the Grand Canyon as part of a self-supported descent with 3 other sea kayakers! He has a few stories to share around the campfire.

Participants will revel in daily paddling and instructional sessions: James provides personalised skills sessions and practical touring that will inform and enhance your paddling abilities. And our West Coast Expeditions staff will share their intimate knowledge of the local area while facilitating guided outings specific to sea conditions and learning objectives!

In addition to all the unique paddling choices, myriad other opportunities await you in this glorious part of the world: morning stretching in a grassy meadow, day hikes on spectacular coastlines and in majestic forests, evening talks around the campfire, delicious and wholesome meals, hot showers, and rejuvenating nights sleeping at our waterfront tent sites.

The inclusions and itinerary are similar to our regularly scheduled "4-Day Sea Otter Kayak Tour" from our base camp, with adjustments to the daily rhythm for specific skills clinics before, during, or after outings.

Please note: since this is right at the start of our season to fit James' schedule, participants will need to provide their own nylon tents and sleeping pads (or rent from us) as our larger canvas tents with beds won't yet be set up.

Convenient two-way van transportation from the Comox Valley (Courtenay or Comox) or Campbell River is included in this offering.

Suitable kayaks are provided. Alternately, intermediate and advanced paddlers may prefer to bring their own kayak for familiarity.





A wonderful time in a stunning location!
Charles C., Portland, OR
2012 Greenland Workshop participant
Immersion protection is required for optimal learning and safety during this specialized workshop (drysuit recommended, or at least a wetsuit; including neoprene hoodie/cap).


Dates and Rates
Greenland-style Workshop - Base Camp
Notes

---

Minimum of 4 guests

We try to do this early in our season and a bit more 'unplugged' than our usual base camp trips: all meals provided/prepared, however guests bring their own tents and sleeping pads to use in our base camp while we get it primed for the season; this fits James' schedule and helps to keep the trip costs lower!

Transportation: includes two-way ground transportation from Comox/Courtenay or Campbell River, and two-way water taxi from Fair Harbour.

"Fees": a booking fee of $30 applies per reservation, regardless of whether for 1 or more people; this is not per person", but "per booking". However, there is a $25/person "KCFN Stewardship Fee" collected to support conservation, research and land/marine stewardship through Witwaak, the Nation's stewardship team.


Rates & Details

---

4 days/3 nights:
CAD $2215/p + taxes & fees (to be updated for 2023)
from Comox/Courtenay or Campbell River

CAD$650 deposit reserves seat; full payment is due at least 75 days before trip start.


Dates

---

2023:
contact us - interest list & by request if possible