Photo Tours - Wilderness Adventures For Photographers!
Let your photographic senses be lured by the lap of water over cobblestones outside your tent, and the howl of coastal wolves down the beach. Appreciate quick access to the layers and textures of rugged beaches, towering sea stacks, and enchanting old growth forest, together with plentiful wildlife and cultural opportunities.
Overview

Our photo tours are designed by photographers for people who want to experience spectacular locations while interacting with wildlife through their lens. Each Photo Tour leader is a great fit with our Wilderness Retreat "glamping" rhythms and opportunities. Daily guided outings will access remote beaches, secluded and verdant forest settings, wildlife, and people in action.

Most travel will be on foot, with the option for some kayak activity/access, and boat-based shooting or delivery to remote islets. Each day we craft the best possible recipe based on guest interest, weather, and what's happening around us.

After rich days in the field, we have all-weather shelter with power (solar and generator) for recharging your camera and equipment batteries, so you can have your laptop computer or tablet handy for downloading, viewing, editing, and sharing your day's work.

You'll enjoy pursuing an abundance of subjects and themes. West Coast Expeditions have been specialised in connecting guests with the local community, Indigenous culture, and coastal ecology of this area since 1972.

Each Photo Tour offers different advantages based on the time of year, and trip leader. To learn more, please contact us.



Dates and Rates
Sea Otter Coastal Systems with Isabelle Groc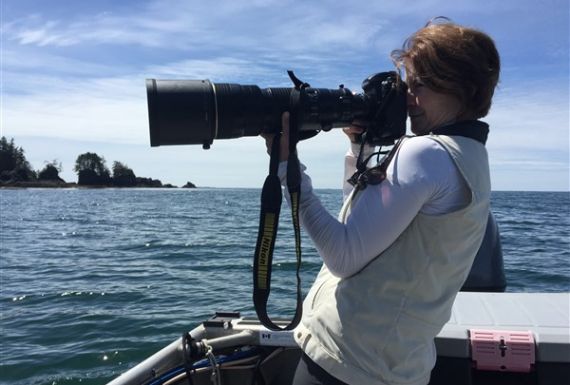 This photo tour has you in one of the premier locations in BC for photographing sea otters, in the heart of the reintroduction site, where otters have been around for the longest period of time.
Our photo tour leader,
Isabelle
has been with us 4 times since 2016 while preparing feature stories for
BC Magazine
and
Canadian Wildlife Magazine
, her
non-fiction children's book about Sea Otters
(released in April 2020), and leading a photo tour in June 2019.
Hunted to extinction by the fur traders in the 1920s, sea otters have made a remarkable comeback off the Coast of British Columbia since they were reintroduced to Checleset Bay, near the village of Kyuquot on the West coast of Vancouver Island.
Participants will have a unique opportunity to photo-document how sea otters transform their environment. On land and on water, you will not only photograph otters, but also the landscapes these charismatic ecosystem engineers help reshape, as well as the other wildlife species that benefit from the return of the sea otters, from invertebrates in the rich intertidal zone to a variety of birds, including oyster catchers, shorebirds, bald eagles and more. You will also be able to connect with local First Nations community members, and learn how they interact with the natural environment.
This tour
- limited to 4 guests -
will provide rewarding opportunities to wildlife photographers and lovers who will come away with spectacular photographs that will tell the remarkable and multidimensional story of a place, its wildlife, and people.
The trip inclusions, itinerary, and logistics, including convenient two-way transportation from the Comox Valley or Campbell River at the start and end of the tour, mimic our 5-day Sea Otter Kayak Tour, except focuses on photography objectives each day, rather than sea kayak outings. We work together with Isabelle, our guides, and guests to maximise special photographic opportunities, accessed by foot, power boat, or optionally by kayak. We will take advantage of early morning low tides and longer summer days. Please note that you will be primarily photographing sea otters from a stable boat platform, and not from a kayak.
Isabelle is an award-winning environmental writer and conservation photographer, passionate about environmental science, wildlife natural history and conservation, endangered species, marine mammals and ecosystems, and the changing relationships between people and their environments. Her work has appeared in National Geographic News, BBC Wildlife, Canadian Wildlife, New Scientist, and other publications. Isabelle has also produced videos for National Geographic and written and co-directed several films on British Columbia's species at risk. Isabelle has led marine mammal photography workshops in Haida Gwaii, BC, and also enjoys teaching nature photography for children and youth in schools.
Isabelle will share tips and help improve your skills to ensure that you get the very best from this trip. All levels of ability are welcome.
Enjoy this gallery with some of Isabelle's images from her time with us.
Sea Otter Photo Tour - Vancouver Island's Wild West Coast with Artica Studios' Jenni and Chase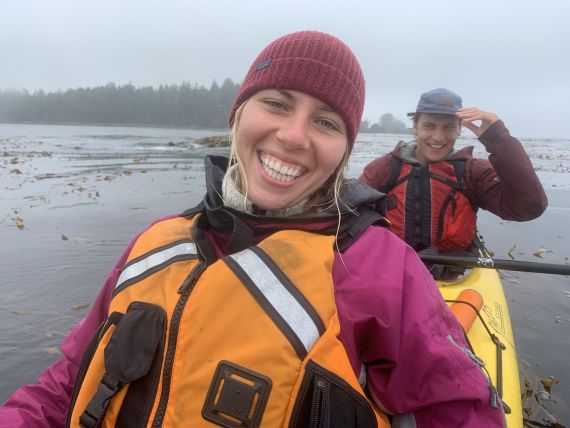 Photography tour leaders/instructors Jenni Licasek and Chase Teron of Artica Studios invite invite you to fall in love with the West Coast of Canada with them!

This tour features the incredible lifetime experience of photographing and kayaking next to large Sea Otter rafts with more than 50 sea otters in each raft. There's also a possibility to spot and photograph coastal wolves, eagles and whales, plus hike in the Canadian rainforest and enjoy a canvas tent camping experience like non-other.

This tour is suited to photographers and non-photographers aged 18+ (15+ if accompanied by parent or guardian with kayaking experience), who are moderately fit and comfortable kayaking or learning to kayak while photographing wildlife. We use a mix of single or double kayaks, and also have the option of some boat-based outings.

From a photography perspective, it's the perfect learning grounds for immersing yourself in nature while being surrounded by great people. This experience is suited to a mix of photography backgrounds and skills, from beginner to expert: with both Jenni and Chase available, there is plenty of opportunity for hands-on photography lessons while exploring the area. There will be photography instruction before heading out in the field and post-editing instruction using Adobe Lightroom and Photoshop. Prior to the trip, Artica Studios provide a bonus photography training video to help you to be best prepared for capturing your best shots on this adventure.

Jenni and Chase are passionate tour leaders who appreciate small groups where they can connect with each guest. Together with WCE, our tours are not just photography workshops, they are life changing experiences that will shape you as a person. Whatever your current understanding is of photography, this tour experience can help you improve in a variety of areas, including composition, editing, business acumen, personal style development, work flow and more!

Just a few minutes with Jenni and Chase make it obvious that they love animals and the environment, and care deeply about creating inspiration and action to help make the world a better place. This photo tour is perfect for positive, like-minded people: it's most often the people who make the experience and everything else is just a bonus! This tour is limited to 6 guests to ensure we have a focused and flexible small group experience.

The trip inclusions, itinerary, and logistics, including convenient two-way transportation from the Comox Valley or Campbell River at the start and end of the tour, mimic our 5-day Sea Otter Kayak Tour, except focuses on photography objectives each day as part of the sea kayak, shoreline, and forest outings. We work together with the photo tour leaders, our guides, and guests to maximise special opportunities throughout your experience with us.

Enjoy this gallery of Jenni & Chase's west coast images from their brief visit in 2019!




Sunrise to Sunset Lifescapes with Boomer Jerritt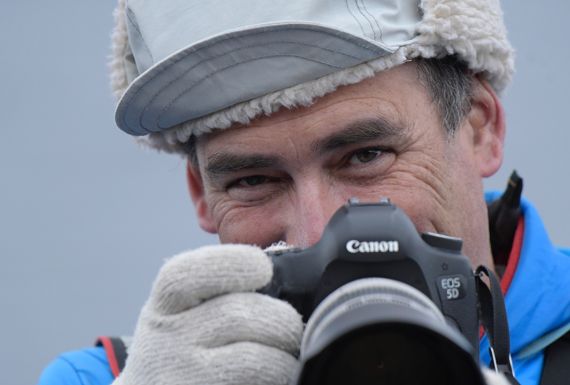 With
Boomer Jerritt
, capture later sunrises and earlier sunsets, or even night photography at a reasonable hour, with all of the associated wildlife and landscape opportunities! Boomer joined us in 2009 and again in 2016 while shooting iconic images for Destination BC and Tourism Vancouver Island. His first visit also provided the cover story images for Westworld Magazine, summer 2010.
Boomer also works regularly in the Antarctic as a Photographer-in-residence for pocket cruise operations and brings to the table a wealth of knowledge with regards to facilitating photo tours and photographing wildlife and landscapes in challenging conditions. He is great company and has a zest for helping others learn!
Enjoy this gallery of Boomer's west coast images.