Employee's Choice Award & Finalist for Small Business of the Year!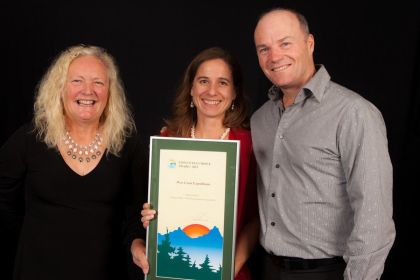 We're humbled and grateful for recently receiving the
Employee's Choice Award
during the
Comox Valley Chamber of Commerce Annual Community Awards
Gala Dinner, January 29, 2016. It was an honour to have been considered as a finalist alongside the
Atlas Cafe
- a local restaurant we love to frequent, and encourage our guests to do the same! Our Guest Relations Manager,
Adrienne Daniel
, surprised us with the nomination. Big thanks to our supportive staff, the
Comox Valley Child Development Association
as award sponsors, and the Comox Valley Chamber of Commerce for this recognition.

This is the first year for this award, "presented to an employer who is recognized by his or her employees as creating a culture that supports work/life balance" for employees and clients. This award was presented by Joanne Schroeder, the executive director of the Comox Valley Child Development Association.

The specific Award Criteria included:
Has demonstrated support and care for employee's parental needs such as job sharing, option to work from home or flexibility when family matters arise
Demonstrates support for local children's initiatives or fundraising campaigns
Staff and owners demonstrate an inclusive attitude towards families with young children both as employees and customers
May provide additional resources such as children's play area, children's menu, child friendly or unisex washrooms and/or change tables in both men and women's washrooms and/or a comfortable place for nursing infants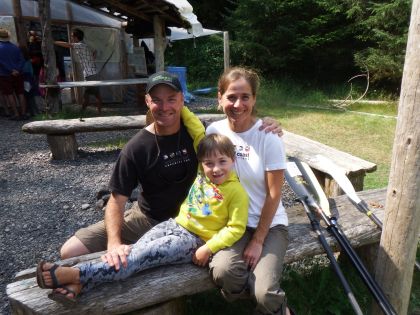 Together with our son Morgan, our Courtenay office, Kyuquot 'wilderness workplace', and schedule are regularly personalized and adapted around the family needs of staff and guests. We do this with the underlying motivation and values that put a slight twist on the visionary words of former Canadian Prime Minister Lester B. Pearson:
"Make tourism education a force to unite peoples, nations and cultures for peace and a sustainable future."
Children and their parents are a vital part of this recipe.
We were also thrilled to be nominated and shortlisted as a
finalist for Small Business of the Year
, and congratulate the other nominees, finalists, and award winner
Rattan Plus Home and Patio
who help to anchor Courtenay's local businesses downtown.